Biografia e Critica di - MOSTRA IN CORSO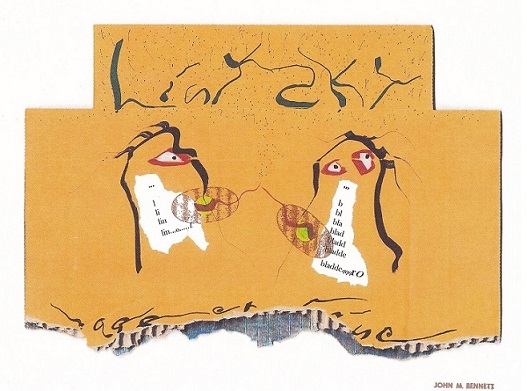 SPAZIO OPHEN VIRTUAL ART GALLERY
Via S. Calenda, 105/D – Salerno
"EXPERIMENTAL VISUAL POETRY"
Mostra Personale di JOHN M. BENNETT
Opere 2014 - 2016
a cura di Giovanni Bonanno
Dal 12 Gennaio al 2 aprile 2017
Inaugurazione: Giovedì 12 Gennaio 2017, ore 18.00
Ophen Virtual Art Gallery, Via S. Calenda, 105/D – Salerno Tel/Fax 089 5648159
e-mail: bongiani@alice.it
Web Gallery: http://www.collezionebongianiartmuseum.it
Orario continuato tutti i giorni dalle 00.00 alle 24.00
S'inaugura giovedì 12 gennaio 2017, alle ore 18.00, la mostra personale dal titolo: "EXPERIMENTAL VISUAL POETRY" che lo Spazio Ophen Virtual Art Gallery di Salerno dedica all'artista John M. Bennett con 71 poems poetry realizzati in un arco di tempo che va dal 2014 al 2016. L'esposizione e accompagnata da una presentazione critica di Giovanni Bonanno.
Biografia di JOHN M. BENNETT
John M. Bennett [JMB] è nato a Chicago, Illinois, il 12 ottobre 1942. poeta sperimentale, ha iniziato a far conoscere il suo lavoro già nel 1970. Ha lavorato in una grande varietà di generi, tra poesia visiva, grafica, suono, mail art, cinema collaborando con scrittori e artisti da tutto il mondo. E 'stato anche editore della rivista letteraria internazionale Lost and Found Times, 1975-2005. Richard Kostelanetz ha scritto che "John M. Bennett è stato il poeta americano fondamentale della mia generazione, perché ha prodotto tanti lavori interessanti in una complessa varietà di modalità sperimentali". Attraverso una piccola casa editrice "Luna Bisonte Prods" fondata nel 1974, Bennett si propone prima nella veste di editore di se stesso e poi anche di altri poeti. In tanti anni ha pubblicato migliaia di opere di scrittori in edizione limitata che fanno parte del mondo della poesia visiva, parola arte e arte /poesia, compresi i 30 anni della rivista "Lost & Found Times", raccolti in diverse importanti istituzioni, tra cui Washington University di St. Louis , SUNY Buffalo , The Ohio State University e il Museum of Modern Art . Bennett stesso è anche il curatore del "Avant Writing Collection", "The William S. Burroughs Collection", e "The Cervantes Collection" ai Ohio State University Libraries.
Vive e lavora a Columbus, Ohio (USA). Home Page: http://www.johnmbennett.net/
"EXPERIMENTAL VISUAL POETRY"
JOHN M. BENNETT
Opere 2014 - 2016
SPAZIO OPHEN VIRTUAL ART GALLERY Via S. Calenda, 105/D - Salerno
12 gennaio – 2 aprile 2017
Inaugurazione: giovedì 12 gennaio, ore 18.00
Orario: tutti i giorni ore 00.00 - 24.00 e-mail: bongiani@alice.it
Web Gallery: http://www.collezionebongianiartmuseum.it
John M. Bennett / EXPERIMENTAL VISUAL POETRY
critical text of Giovanni Bonanno
John M. Bennett (b. 1942, Chicago) is an experimental American visual poet in which writing, sound, phonetic poetry and performance relate in a kind of poetic "asemics" in which the concept of linear poetry as usual is evolved and subverted in the direction of an experimental vision, incorporating new moods and new research in the field of writing, sound and speech. A poetic form according to a blurb on his latest book, The World of Burning, "encapsulates the chaos that characterizes our experience of and in this world, giving it a shape and presence in words, phonemes, languages". Moreover, the same John M. Bennett confirms that "in a sense everything is chaos; my work is a way to try to channel in some way that chaos in ways that resonate with me. So the poems are small pieces of chaos. The reality is chaos, but it makes sense if you can see it from the right perspective. "
"Asemic writing ", ie, asemantic writing, is the privileged field of Bennett, the occasional place where many elements, apparently in friction, converge in a sort of visual flow, casual outcrop, emergence given as objective which could never be objective. A kind of "open" semantic highlighting , without words that have only one meaning, free from any fixed constriction. "Asemantic writing", in fact, began as a form of poetic / literary writing formed essentially by the use of invented words resulting in a hidden meaning. Although there is not a specific semantic content, it is still able to invoke several research fields, leaving an opening for interpretation and invention. In short, it as a writing with signs, but with no meaning, and yet, without losing the ability to create other meanings. John M. Bennett belongs to this special and privileged area of ​​research in which freedom and multi-structured metaphor of meaning is condensed into fragments of ambiguous sense apparently giving it a presence in the form of writing, image or word. Bennett does not write linear poems, but "uses poetry as a means of understanding to create what can not be understood and what can not exist", and therefore, the use of the written word and verbal means to emotionally suggest other meanings.
He has occupied for several decades that area that I call "marginal art". In 50 years of poetic activity, he has been able to regenerate himself, with a surprising variety of proposals. In addition, he has been an alternative publisher, as well as publishing more than 400 books and poetry booklets of his own work, each very different from the other. Richard Kostelanetz calls him "the seminal writer of my generation", able to relate effectively with the avant-gardes of the twentieth century and with interesting characters such as André Masson, Max Ernst, Henri Michaux, Paul Klee, to regenerate himself in "asemic writings" ("asemantic writing") with a "universal" writing capable of suggesting new and different possible interpretations. As there is no logical correspondence between signifier and signified as characterizes formal writing, there is determined in his work an absence of meaning, a kind of "semantic gap" which the artist filled in part with a figuration seemingly playful and naive, a kind hybrid and fluid "writing of poetry", suggesting to fill that void with a personal interpretation that must necessarily involve the cognitive, cultural and emotional.
His is a writing that I consider as "relational interference" with the precise intention of setting aside its full readability and to define itself as autonomous reading, because it is stored deep in our unconscious minds. Moreover, even the sound-poetry performances follow this expressive logic characterized by a deliberately grating attitude, as he himself says, seemingly a kind of poetic and compulsive psycho-babbling. A creative writing, then, that blends text and graphic sign to become definitely also an outer limit of the image of figuration in graphic writing.
I think of the series of works in this exhibition as the presence of small beings or portraits playfully born from the provisional and appropriate nature of writing. Fragments of a distilled writing that acquire a new life. A light and "insubstantial" presence that go to define provisionally on concrete and real packaging cartons recycled and made new, signs that are defined in the darkest dimensions and precarious existence released from a normal and usual logical sense. Because it is in the case, and only in an "open doing" dimension that poetic expression can exist and manifest, bypassing common linguistic understanding and decoded reading; thus, only thus a poetic text can be interpreted in a personal way, freeing your mind and chasing several multiple meanings that are derived by each one's agreement and graphic symbolism. We must emphasize, finally, that the horizon Bennett proposes also coincides with the assiduous collaborations between contemporary artists and poets from different latitudes (collaborative works), which has become an established custom. It remains a constant research in order to compare different worlds and modes of operation. Over the years he has collaborated with many American and foreign artists, including the frequent and assiduous contributions with Tom Cassidy, Murtagh, C. Mehrl Bennett, Jim Leftwich, Sheila E. Murphy, Baron, our own Lancillotto Bellini and many other international poets. Direct descendant of Dadaism and experimental writing, there is presented in this exhibition the searching poetics of this important American artist who has published 71 works in the last three years (2014-2016). The event will also be a fitting tribute to non-sense vision and the objet trouvé spread from Dadaism which in 2016 also marked the centenary (1916-2016). Giovanni Bonanno December 2016
"Tutto il materiale di questo sito è protetto da copyright",
pertanto, non è ammesso utilizzare le immagini e i testi se non è consentito espressamente dagli artisti presenti in questo Spazio "Ophen Virtual Art Gallery" di Salerno.